's
Books
| Illustration | Sculpture | Misc | News |
First | Previous | Next | Last | Book Index

---
The Three-Seated Space Ship
Author:

Louis Slobodkin




Copyright Date:

1962




Publisher:

Macmillan




Pagination:

116 p.



T H E
S T R A N G E
T R A V E L E R



I

t was the hottest June on record when Eddie Blow's grand- mother came down to New York to visit Eddie and his mother. Then when Eddie was done with school that year she decided to take Eddie along and fly back to her
farm up above Albany instead of going back, as she usually did, by train or bus.
Early that morning as they sat in the bus on the way to the airport his grandmother said, "... And this is the very first time
that I will fly in an airplane ... But it is so hot here in New York I want to get back to my nice, cool farm as soon as possible. I do hope flying is safe."
"Sure it is, Grandma ... Well, flying is as safe as anything else," said Eddie.
Eddie had never flown in an airplane before either. But he was not scared of flying ... not him! Eddie had flown in a Space Ship! And not only one time either ... a number of times!
Because Eddie had a friend named Marty, a Junior Explorer from the planet Martinea ... who had a Space Ship!
He had met Marty two summers ago on his grandmother's farm when Marty landed his Space Ship under an apple tree. And since Eddie was a first-class Boy Scout interested in science and nature study and things like that and Marty was a Junior Explorer from outer space they got along very well.
Eddie told Marty about America and about Boy Scouts, and they had a wonderful summer together.
Then when Marty returned the following summer in another (very swift) Space Ship, he had taken Eddie along as he explored the whole United States at tremendous speed ... in just four days!
Marty always tried to behave and look like a regular American boy during his visit to the planet Earth. He had read Eddie's Boy Scout Manual along with Eddie's old school books (a fifth grade geography and a seventh grade history) and he carefully obeyed all the laws of the land ... but sometimes he made a few mistakes.
Of course Eddie never told anyone about it. He was afraid no one would believe him. Eddie's grandmother had met Marty on her farm too. She liked him. But she never knew he had come from outer space ... from the planet Martinea. She thought he was just an ordinary nice boy ... a friend of Eddie's.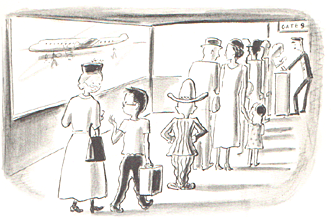 After the bus arrived at the big airport Eddie and his grandmother joined the line of people waiting to board the plane that was due to fly to Albany, Buffalo, Cincinnati, and points west.
They stood talking in back of a strange little man who wore a bulging seersucker suit and a large white cowboy hat. And when Eddie began to tell his grandmother about his Boy Scout activities (just to pass the time) the little man whirled around and faced him. Although the little man's face was half covered by large, rose-colored sunglasses ... Eddie recognized him at once!
"Marty!" shouted Eddie.

"Marty boy!" cried Eddie's grandmother.
The little man was Marty ... Marty, the Martinean ... Eddie's friend from outer space!
Marty, dressed in his bulging seersucker suit, his big white cowboy hat, and the large rose-colored sunglasses looked very much like an ordinary, rather small American traveler from out west ... a sort of hammered-down Texan.
"Hello, friends," said Marty with a broad smile.
"What's going on, Marty? ... What are you doing here?" . . . . . . . . . . . . . .

Cover variant
First | Previous | Next | Last | Book Index