May 2, 2010
News has reached us of the passing on May 2 of Louis' other son, Michael Slobodkin. Familiar to readers as Magic Michael, he was said to be known to friends as an erudite, colorful and well-traveled polymath involved in many art forms, including membership in a choir under the auspices of the Israel Philharmonic Orchestra. We feel a profound regret for the loss of a man we wish we'd had the opportunity to know.
September 25, 2009
We deeply mourn the loss of Louis' son Dr. Lawrence B. Slobodkin, a seminal and central figure in the development of ecology as a modern science. He died at the age of 81 in his home in Old Field, N.Y. and is survived by his wife, Mrs. Tamara Slobodkin, his children, Naomi, Nathan Freeman and David, and two grandchildren. New York Times obituary
May 5, 2007
Louis Slobodkin posthumously received the Kerlan Award

this year at the University of Minnesota. The award is presented annually "in recognition of singular attainments in the creation of children's literature and in appreciation for generous donation of unique resources to the Kerlan Collection for the study of children's literature."
April 7, 2007
Please forgive another non-Slobodkin item ... but I convinced my Web Guy to post his one attempt at a children's book, a parody inspired by the Flat Stanley series done a few years ago in response to his nephew's invitation to participate in their class project. The flat man gets reduced to a thin dime in Stanley in Flatland
.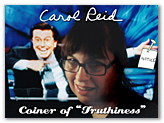 March 29, 2007
Web Guy would like to point out that Carol Reid (the humble and charming librarian responsible for this site) holds a 1999 precedent for the term "truthiness"—a coinage Mr. Stephen Colbert has been claiming subsequent to the American Dialect Society choosing it as the 2005 Word of the Year
. On the March 26 Colbert Report, he also claimed the phrase "Librarians are hiding something" as his personal intellectual property and went on to invite his viewers to share a photo op with him. In return, we invite him (and you) to read "Tonight's Word: Apologia (I'm a Librarian—and I've Been Hiding Something)." The nail gun is out and it's loaded for Colbert.
March 26, 2007
Io Sono received a nice mention
in Josephine Cameron's blog, Please Come Flying
. Props to Josie as a talented musician and songwriter
with a "daily-renewed sense of wonder." Here's wishing her many more magical Mondays (sans errant mouse clicks).
January 29, 2007
A Fuse #8 Production
called Io Sono "cool" and "lovely" [blush]. We'll take that as high praise, coming from a librarian cool enough to work "at the most succulent plum of children's branches in New York City" ... and lovely?—well, just look at her picture. A pleasure to light the Fuse.
January 23, 2007
Gail Gauthier of Original Content
had a look at Io Sono and concluded, "A great site." We're always pleased to hear a bon mot, especially from a pro—and Gail is a children's book author herself. Check out her books
!

March, 2007
Louis Slobodkin is featured among his colleagues in "A Concise History of Selected New York State Children's Authors and Illustrators"
, Carol's exhibit at the New York State Library.
(The link is to a PDF file of the exhibit labels.)

January, 2007
"Hunting Slobodkin"
, Carol's article about her adventures in Slobodkin book collecting for the IOBA Standard
, the newsletter of the Independent Online Booksellers Association.




Slobodkin Exhibit at the Albany Institute of History and Art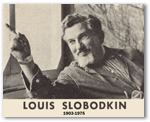 October 22, 2006
"Louis Slobodkin: Albany Artist Rediscovered," the text of a talk delivered by Carol Reid as part of the concurrent Albany Institute of History and Art exhibit.






September 16 – December 31, 2006
Albany residents will be delighted to discover—or perhaps rediscover—another native artist who was internationally renowned in his time and remains beloved to this day. The exhibition LOUIS SLOBODKIN: Albany Artist Rediscovered reveals the artist as a master sculptor as well as a prolific, inimitable, and endearing illustration stylist and storyteller.
Louis Slobodkin (1903-1975) attended Albany High School before moving to New York City in 1918 to study at New York's Beaux Arts Institute of Design where he was awarded a Louis Tiffany Foundation Fellowship along with twenty-two medals for life study, composition, and drawing. In the 1930s, he directed the New York City Art Project's sculpture division, as well as contributing statues, reliefs, and panels for government buildings in Washington, New York, and elsewhere, including a featured statue of Abraham Lincoln at the 1939 World's Fair that became a focus of controversy (ending regrettably in the destruction of the work by sledgehammer). In 1941, at the urging of author and friend Eleanor Estes, he illustrated her children's book, The Moffats, and three years later received the prestigious Caldecott Medal—awarded to the artist of the most distinguished American picture book for children—for his collaboration with James Thurber on Many Moons, launching the next stage of his career as a celebrated children's book author and illustrator.
On view in the Open Storage Viewing Room from September 16 through December 31, LOUIS SLOBODKIN: Albany Artist Rediscovered features sculpture and drawings lent to the AIHA collection by Lawrence Slobodkin, the artist's son, as well as drawings, sketches, bronze and books from the collection of Carol Reid, a Slobodkin historian and a co-curator of the exhibit with Daniel Lardner.