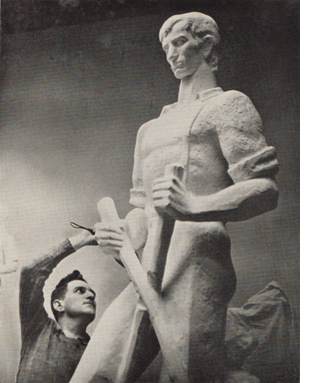 Louis Slobodkin had been a sculptor for twenty years before turning to illustration. Although much of his work was on display in museums, he preferred to make sculpture that was "architectural" or rooted in a specific place. He created public art for various government buildings, directed the sculpture division of the New York City Art Project, and served on the board of the Sculptors Guild.
In 1938, the U.S. Treasury Section of Fine Arts held a call for entries for a sculpture to be placed at the 1939 New York World's Fair, exemplifying "the most unique symbol of American Unity." Of 424 models submitted, Slobodkin's was awarded second prize. The resultant sculpture, the Rail Joiner, was a 15-foot steel and plaster rendering of Abraham Lincoln as a young man in vigorous and idealized form. When the Slobodkins arrived at the Fair on opening day to inspect the installation, however, they were informed by a doorman: "It ain't there no more." The shocking word quickly circulated that workmen had demolished the Rail Joiner on order of Theodore Hayes, executive assistant to the federal commissioner for the World's Fair, Edward Flynn.
When confronted, Hayes at first dissembled and said the artwork had been placed in storage, then tried to buy the artist off, and finally settled uneasily on the statue being "too tall," adding that preview visitors had "scoffed at it." Hayes hastened to explain: "We couldn't take that sort of criticism from people representing John Q. Public. I don't care what those artist fellows think, it should never have been placed there at all." He refused, however, to confirm the sculpture's whereabouts or condition. Five days later, Slobodkin told the New York Times that, according to a source in Washington, his Lincoln had indeed been set upon with sledgehammers, reportedly because a lady who lunched with Flynn had not found it to be in "good taste."
Despite Edward Flynn's being a strong supporter of FDR and a "dear friend" to Eleanor, the First Lady expressed both admiration for the fleeting statue and dismay over its sudden fate in her newspaper column "My Day." The missing sculpture became a cause célèbre with fellow artists organizing protests and a public poll showing near unanimous support for the sculptor. Hayes felt the heat but was terse: "After all it is government property. Beyond that there is no comment." Slobodkin sought legal redress, pointing out that a principal inducement for submitting a work in the competition was hope of an audience. But Flynn prevailed in court. "A day's destruction for a year's work. Oh, well," Slobodkin said. A sort of settlement was reached when a seven-foot bronze casting of the statue (the Fence Builder or Young Abe Lincoln) was erected at the Department of the Interior in Washington, D.C. Another bronze, called the Rail Joiner, now also adorns the justice building in Lincoln, Nebraska
, the result of a "Pennies for Lincoln" campaign launched on Lincoln's birthday in the year 2000.