familiar to him, and for once he knew where he was. He knew exactly. He had stood on this same spot a year ago, wailing in anguish as the icebreaker Bonaventure sailed off and left him alone.
He remembered that dreadful day. He had come back from a spring exploring trip ashore to find the ship gone. An empty stretch of
water gleamed where the Bonaventure had been frozen in the ice. Whitey had thought she would always be there. And then, far off, he saw her. Her masts were growing smaller and smaller and finally they disappeared.
Months before, when the sailors had found him lost on the ice and dragged him squalling back to the ship, he'd fought them. He'd fought and sulked and swung at everything. But he had a cub's hunger and a cub's curiosity, and he'd learned very quickly that such a performance got him nowhere. He soon discovered that the sulks brought him only an empty belly, but if he put on a cute act, he would get both food and fun.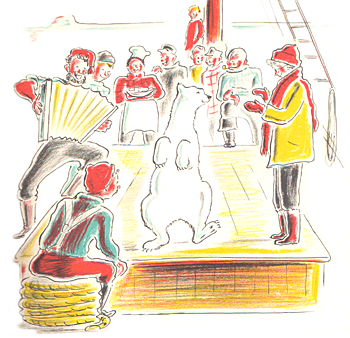 When the captain's wife was properly approached, she always petted him. The members of the crew were always ready for games and wrestling matches. There were endless things to upset or take apart. They all spoiled him with cooked meats and sweets, and softened him up even more by giving him a warm place to sleep. They developed his ear with accordion music and taught him to dance in a clumsy, shuffling fashion. In short, they made him think that life was a picnic as long as he behaved himself and looked cuddly.
Then they had all gone off and left him with nothing but darkness and cold and trouble. He was always hungry and he hated the loneliness. And instead of music, all he heard was the horrid roaring and crashing of the ice.
He had to learn the hard way, by himself, that a polar bear's life is mainly a matter of keeping ahead of the ice, and starvation. Most of the fish and seals and birds that he could eat lived where the ice met the sea. He had to follow these creatures if he wanted to catch any of them. In summer he had to go north as the ice melted, and in winter he had to come south again. It took so much walking that he thought his feet would drop off.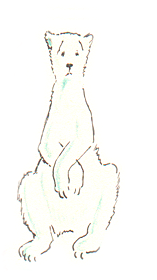 In summer, clouds of biting insects nearly drove him crazy. In winter, cold froze him to the bones. He had to swim a great deal, and he was a little afraid of water. Besides, while he was growing soft on the ship, the creatures he stalked were learning to keep away from him.
These things were bad. Also, he had been bored. No one played with him, and it was this that he missed more than anything. . . . . . . . . . . . . . . . . . . . . . . . . . . . . . . . . . . . . . .