A

long, long time ago, before people were Republicans or Democrats
(or whatever they want to be), when the world was ruled by kings and queens or people like that, the bravest ruler in all the world was the slender young King of Bingland.

His full name was Wilbur Edward Michael Basil Sebastian Montgomery the Eighth, King of Bingland, Defender of the Faith, Emperor of the Lowlands, the Highlands, the Midlands, and all the Colonies northeast of Zanzibar.
But he was known throughout the ancient world as Wilbur the Warrior.
(Secretly, some people just called him Skinny.)
Wilbur the Warrior was always ready to grasp his trusty sword, don his shiny suit of armor, mount his Snow White Steed, and go forth to defend his kingdom at any time of the day or night.
His shiny suit of armor and his trusty sword were always ready at his bedside. And his Snow White Steed was always saddled and waiting at his castle door. Because sometimes King Wilbur the Warrior rushed off to fight the enemies who tried to invade his beloved Bingland ... even before breakfast!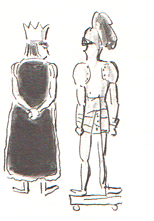 After a number of wars and many bloody battles, all the enemies who surrounded Bingland were subdued. King Wilbur had beaten them back so many times, they gave up.
One day King Wilbur said to his Queen, "Well ... we guess we will have peace from now on. You can put away our shiny suit of armor and our trusty sword."
(That's the way kings used to talk. They never said "I" or "mine." They said "we" or "ours," as if they were more than one person. That made them feel important.)
"Very good," said the Queen, and she wrapped up the shiny suit of armor and the long sharp sword in two very fine velvet cloths and put them away in the bedroom closet.

"And now," said the King, "please tell the Royal Stable Boys that they do not have to saddle our Snow White Steed and keep them waiting for us any longer. ... Yes, it does look as if we are going to have peace for a long, long time." Then the King sighed, "Oh dear. ... Now what shall we do?" . . . . . . . . . . . .