One day while Jonathan and the Captain were enjoying the sun in front of the cottage, Captain Jones looked up and said:
"Jonathan, my lad, it looks like rain."
"Oh, no, Captain Jones. It can't rain."
"And why not, may I ask?" asked the Captain.
"Why, it can't rain. I heard the radio report this morning and it said we were going to have fair southwesterly winds and blue skies. And the weather-man is never wrong."

The Captain snorted. "Hmph! Weather Bureau stuff! Look, Jonathan, my lad, over yonder in the nor'east is a cloud no bigger than a small man's fist, and my rheumatism tells me that we'll have a blow within a matter of minutes."
Jonathan shook his head doubtfully.
"Aye, Jonathan, my rheumatism is more accurate by far than all the weather experts. Wait and see."
And no sooner had Captain Jones spoken than the wind shifted and came blowing in from the northeast. The sky darkened and almost before the Captain and Jonathan could hurry indoors the rain came pouring down. The wind and the rain beat at the windows and pounded the shingles on the roof.
"Now," shouted the Captain above the roar of the wind, "what do you think of Captain Forthright Jones, Esquire, as a weather prophet?"
It was warm and comfortable in the cottage. The Captain took down his wheezy old accordion and played and sang some of the old chanties. Here is one of Jonathan's favorites: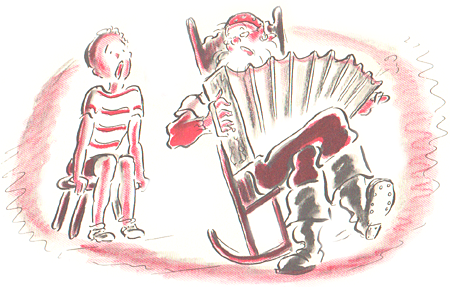 O-o-o-o-o-o-oh——!
I am a sailor home from sea,
And nothing shall ever trouble me.
What ho! What ho! What ho!

Then Captain Jones prepared a snack of toast and strawberry jam and milk. He threw a chunk of driftwood into the fireplace, and when the fire was roaring up the chimney he told Jonathan stories of pirates and shipwrecks.
Soon the storm blew out to sea, the sun came out again and the air was sparkling bright. Jonathan helped wash the saucers and glasses, and while the Captain opened the windows to let fresh sea-air come billowing in, Jonathan carried the chairs outdoors. When he got to the front of the cottage he saw something that astonished him: a rainbow arching over the sea. He was breathless with surprise and delight. Then he caught his breath and cried:
"Captain! Captain Jones! Look, sir, a rainbow! Come quickly!"
Captain Jones hurried out just as fast as he could, untying his apron as he came.
"Well—," said the Captain, "well—." And because he, too, was overcome by the beauty of the rainbow, he said "Well—," just once more.
Finally Jonathan spoke. "Captain Jones, sir, is it true what they say about rainbows?" . . . . . . . . . . . . . . . . . . . . . . . . . . . . . . . . . . . . . . . . . . . . . . . . . . .